SSA Valeting and Cleaning Services offer two levels service for motorhome valeting in Doncaster. The standard valet costs £80.00 and includes the following:
Roof wash and rinse
External body – cold water rinse to remove loose dirt
The exterior wash – soapy water and a soft brush or sponge
Exterior rinse
Alloy wheels or wheel trims – clean
Tyres – clean
Wheel arches – pressure wash
All external cab glass – clean
Habitation area windows – cleaned externally
External mirrors – clean
All exterior lights cleaned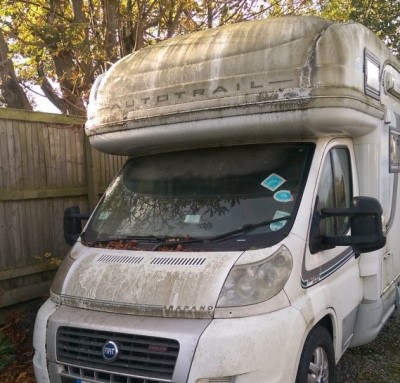 Remember that SSA Valeting and Cleaning Services offer fully mobile valeting in Doncaster, Sheffield, Rotherham, Barnskey and throughout South Yorkshire. We are able to clean and wash your motorhome at your home or maybe your storage location. However, please check with your storage provider that we will be able to access the site. The SSA van has it's own on board water supply. This might be important if you use a water meter!
SSA also offer a "Premium Service" – this costs £120. Over and above the standard offer, the price includes a buff and polish of the cab area and also a buff and polish the entire van externally if required. You may wish to read more about the "Premium Service" by clicking here.
Prices for interiors are available on request. It usually works out better value for money to book everything at the same visit.
Motorhome valeting in Doncaster – how to book
To book your motorhome in for a valet, please call Scott on 07725 547101 or complete the contact form below.
For anyone interested in motorhome travel, please take a look at the Motorhome Voyager website. Motorhome Voyager details everything from portable washing machines to toll free routes through Europe.