At this time if year, our motorhomes and caravans are collecting a never ending supply of road dirt and grime. A recent job saw me motorhome valeting in Huddersfield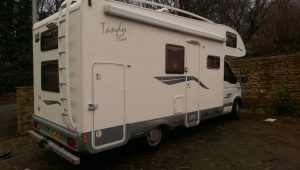 This McLouis motorhome was given a thorough hand wash – note no power/pressure washers and then rinsed. Once dry, the motorhome is treated to a hand wax and polish. The exterior windows are cleaned with very soft cloths and non abrasive products. Exterior plastics are washed and brought back to an "as new" appearance. Finally, wheels and tyres are cleaned, giving the motorhome a finished look.
I am fully mobile and cover much of Yorkshire and towards Greater Manchester
Motorhome valeting in Huddersfield – book now
To book your motorhome or campervan in for a makeover, call Scott now on 07725 547101. Alternatively, complete the form below.The price of the job detailed above is £120. A motorhome of this size for a wash and clean, without wax or polish is £80. Owners of larger motorhomes such as TAG axles, please contact me for a price. Remember – I also valet caravans – click here for examples
Why not have a read of the Motorhome Voyager website? Motorhome Voyager features hundreds of campsite reviews, product tests and tips such as toll free routes through Europe.