Last month, I was given a bit of a challenge and kept busy for a day whilst caravan valeting in Huddersfield.  This Swift caravan was in need of some tender loving care to restore it to it's once former glory. The caravan had been stored by it's previous owner. Consequently, some hard graft was needed to bring the caravan upto the high standards SSA Valeting's customers know and expect.
The caravan was treated to hand wash with soap water – in fact, several times over! I do not use a pressure washer on caravans and motorhomes – your leisure vehicle is treated with respect. The soap and years of grime were rinsed away, allowing me time to apply a wax the exterior panels. Note that I do not wax the roof.  The windows are washed with very soft cloths and gentle cleaning products. As a result, this ensures that the plastic is not scratched or damaged in any way.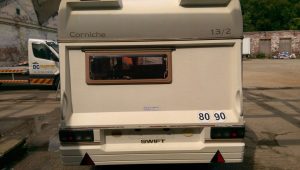 As you can see, what was once almost a "barn find", is now a beautiful Swift Corniche cavavan ready for a new home – and to be a home to it's new owners!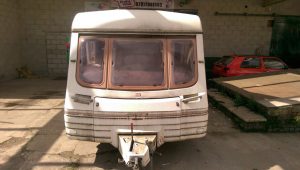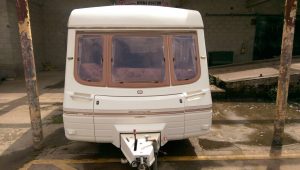 Caravan valeting in Huddersfield – how to book
For any caravan and motorhome cleaning requirements, give me a call on 07725 547101.
The price to professionally clean and polish a caravan starts at just £80. The exact price may vary depending on the size of your caravan and the amount of work needed. Remember I also valet motorhomes – see here
Caravan and motorhome enthusiasts may enjoy reading the Motorhome Voyager website. Motorhome Voyager documents numerous toll free routes through Europe, reviews hundreds of campsites and camperstops plus documents dozens of accessories. Click here to visit the Motorhome Voyager blog.