Mobile car valeting near Dewsbury is always available from SSA Valeting and Cleaning Services. Remember I offer a fully mobile service covering West Yorkshire and adjoining counties. Don't forget – SSA Valeting has on board water supplies. Consequently, I am able to offer valeting services at your workplace or other chosen location.
For a fee of £40, you car receives the following treatment. (Please note, that if a vehicle has excessive pet hair, a further charge of £10 per vehicle may apply.)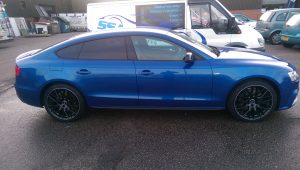 SSA washes the car, using our own on board water supply and appropriate cleaning fluids
Alloys wheels receive a non acidic treatment to remove brake dust and road grime
The door shuts – also known as apertures are cleaned
The car is dried using a "leather"
Upholstery and carpet – dry vacuum
Boot area – dry vacuum – wet vac is available
Interior plastic, trim pieces, door handle and dashboard – dust and clean
Rear view mirror – now clean and sparkling
Wet vacuum of upholstery and carpets where required
Windows cleaned "inside and out" to high standards
Exterior body – application of Carnauba wax
Exterior plastics cleaned
Appropriate tyre treatment
Additionally, for an extra £40, SSA Valeting and Cleaning Services offer a buff and polish. This removes fine scratches and restores paint work to near showroom condition. This is particularly beneficial as cars grow older! A finishing compound is also applied.
Noteworthy of a mention, the products we use do not contain silicone.
I do not carry out "paintwork" for chips and scratches. However, you may wish to look at Deano's Motors of Brighouse.
Mobile car valeting near Dewsbury – how to book
Booking with SSA is easy! Call Scott, now on 07725 547101. Alternatively, complete the form below. SSA features on Facebook too! Personal and corporate clients are welcome.
Remember, SSA also offers carpet cleaning, caravan, van and motorhome valeting. Winter is particularly busy. As a result, early booking is advisable.